Prime Minister Dr. Mohammad Shtayyeh visit JAIP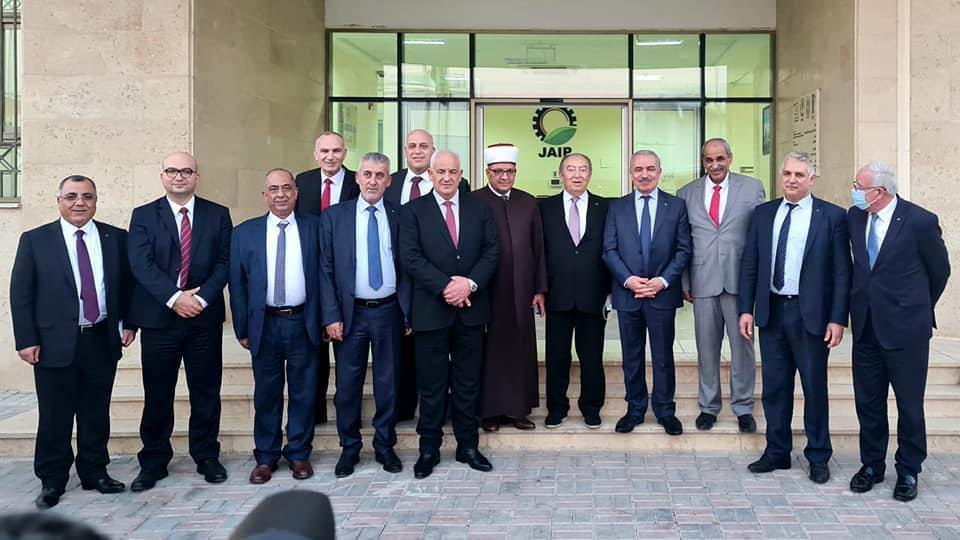 Jericho - 10 January, 2022, the Investment Promotion and Industrial estates agency received HE. Dr. Mohammad Shtayyeh and the Palestinian Council of ministers in Jericho Agro Industrial Park, this visit come with the same time as the weekly meeting of the cabinet take place in Jericho governorate.
Where a detailed explanation provided about the JAIP project, advantages that the park enjoys as an attractive park for local, foreign and diaspora investments.
challenges facing the project were also mentioned, such as the exclusive road with Jordan, which will play a key role to facilitate the movement of internal and external trade as one of the most important goals of the Palestinian government.
Where the Prime Minister commended the progress of work in JAIP after the completion of the first phase, with an area of 140 dunums, and work is underway to launch the first part of the second phase, with an area of 100 dunums, in preparation for the completion of the entire second phase, with an area of 500 dunums, and it is expected that the developer will begin to complete the onsite infrastructure By the end of the first quarter of 2022 and preparing to receive potential investors with the fourth quarter.
An inspection tour was conducted at the Palestinian Business Prosperity Centre (PALPRO), which will provide a range of services related to business development, quality control, and prototyping, in addition to innovative ideas in the field of agricultural technology and others.
In conclusion, the Prime Minister stressed the importance of the Jericho Agro Industrial Park and the development of the achievement, and stressed the importance of intensifying efforts from all parties to complete the launch and operation of the project according to work plans to ensure the maximum benefit from these quality economic projects. Sponsoring and supporting the Prime Minister and the government by overcoming the obstacles facing investment and investors towards creating a competitive investment environment in line with the government's development plans and achieving the vision of President Mahmoud Abbas.