About Us
Investment Promotion and Industrial Estate Agency (IPIEA)
Investment Promotion and Industrial Estate Agency role is to encourage investment in Palestine, IPIEA is an autonomous agency by the Law NO. (1) for year 1998 and its amendments on encouragement of investment, Law NO. (10) for year 1998 on Industrial zone and presidential decree no (10) for year 2021 on Palestinian organizations governance, those regulations provides investors by incentives and guaranties to make their investments in Palestine profitable through a free of bureaucracy business environment, the Agency in charged on establishing and monitoring and regulating the industrial estates and the free industrial zones in Palestine in addition to planning and promoting the concepts and actualize it in compliance with international standards to generate and maintain jobs, IPIEA is the practical translation to the vision of Palestine and its policies to encourage private sector and maintain healthy investment environment.
IPIEA's Vision
To build a better future for all Palestinians by providing constantly improved customer service to foreign, domestic and Diaspora investors; through utilizing an effective One-Stop-Shop, special investment incentives and state of the art technology to attract investment. PIPA facilitates cooperation between the private sector and the government, thereby creating and maintaining a more competitive infrastructure and investment environment.
The Partnership between the Private and Public Sector in the Board of Directors of IPIEA
PIPA Board of Directors is composed of 13 members; 5 members represent the private sector and the remaining 8 represent the public sector. Minister of National Economy chairs the BoD H.E Khalid OSAILY, representative of the Ministry of Finance acts as vice- chairman.
The importance of an existing composed private and public sector board of directors is formed by the necessity to create cooperation between both sectors to monitor and initiate needed changes in laws and procedures that could prevent investment in Palestine. Also, such a relationship initiate and develop needed policies to create an attractive and encouraging investment climate in Palestine, with participation in the implementation of needed policies and procedures that could position Palestine in an advance position within the international competitive arena.
BoD members
Public Sector Institutions: Ministry of Tourism and Antiquities, MInistry of National Economy, Ministry of Telecommunication and IT, Authourity of Energy and Natural Resources, Ministry of Finance; MInistry of Local Government.
Private Sector Organizations: Federation of Palestinian Chambers of Commerce, Industry and Agriculture "FPCCIA"; Palestine Trade Centre "PalTrade"; Palestinian Federation of Industry "PFI"; Palestinian Businessmen Association "PBA".
A strong and collective relationship between the private and public sector within the IPIEA's BoD had led its members to follow a unified national investment promotion framework strategy through targeting productive sectors.
BoD Member

Organization

Position

H.E. Khalid OSAILY
Ministry of National Economy

Board Chirman

Minister of National Economy

Mr. Imad ABU SABHA
Ministry of Finance
Deputy Chirman
Mrs. Reem KARAZON
Palestinain Energy and Natural Resources Authority
Representative
Mr. Raed SHARABATI
Ministry of Local Government
Representative
Eng. Eyhab ESBAIH
Ministry of Communications and Information Technology
Representative
Mr. Tareq AlMASSRI
Ministry of National Economy
Company controllar
Mr. Osama STAITI
Ministry of Tourism and Antiquities
Representative
Dr. Issa MOSA
Palestinain Environment Quality Authority
Representative
Mr. Samir HULILEH
Palestine Trade Center (PalTrade)
Representative
Mr. Fawaz SHEHADEH
Federation of Palestinian Chambers of Commerce, Industry and Agriculture (FPCCIA)
Representative
Mr. Roubin Joulane
Palestinian Federation of Industries (PFI)
Representative
Mr. Fawaz NAJJAR
AMAAR

Representative

(representing developers)

Mr. Ahmad Ragheb Haj Hasan
Investment Promotion and Industrial Estates Agency (IPIEA)
CEO
PIPA Organizational Structure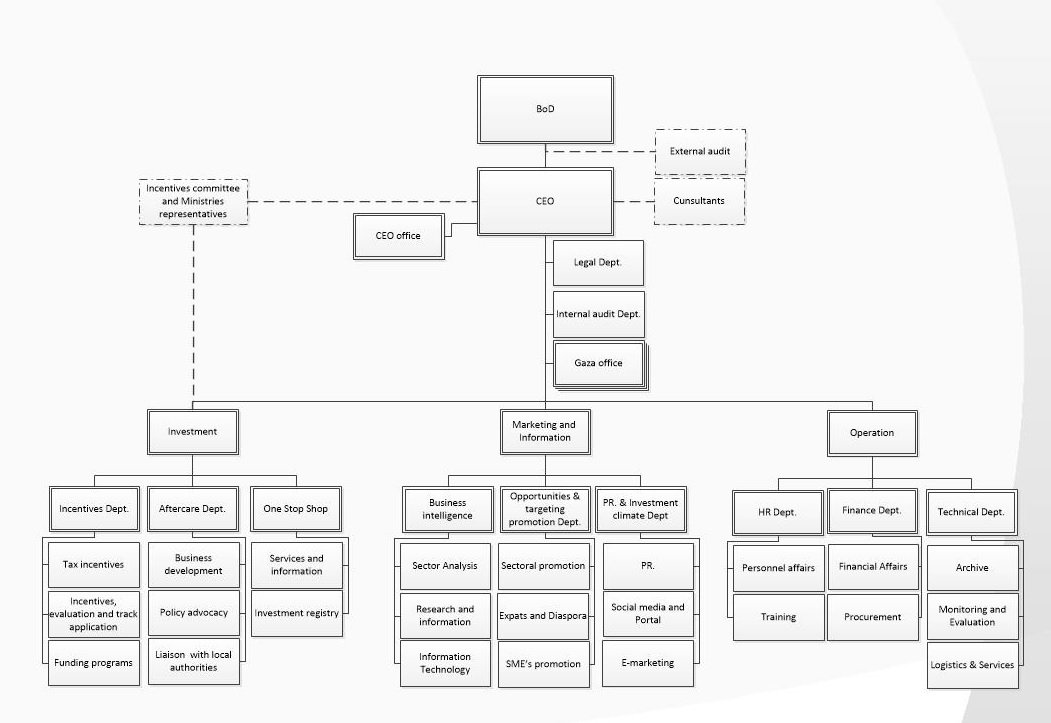 Services Offered by the Palestinian Investment Promotion Agency (IPIEA)
IPIEA offer investors the necessary information to start an investment including providing assistance in obtaining all necessary licenses through IPIEA's one-stop-shop. The investment support unit offers updated information and data related to investment opportunities, expenditure and funding in Palestine.
The relationship between IPIEA and investors do not end with the awarding of all the incentives and advantages that the law offer, however the relationship is continuous through IPIEA's After Care Unit. Many services and assistance are offered to current investors to solve any problems they might face while establishing their projects. Part of IPIEA's role is to monitor the existing regulations and laws that may affect the healthy investment environment.
For more information:
I
nvestment Promotion and Industrial Estate Agency (IPIEA)
Postal code: P6058023
P.O. Box 1984, Ramallah, Palestine.
Phone: +970 (2) 298 87 91 / 5
Fax: +970 (2) 298 87 93
Email: info@pipa.gov.ps